Perfect Wedding Nail Colors for a Beautiful Bridal Look
For most brides, the wedding day is all about looking their absolute best. Everything has been carefully planned out in advance, from their dress to their hairstyle and makeup. And of course, no wedding look would be complete without beautifully polished nails. Choosing the right nail color for your special day may seem like a daunting task since there are so many options available – you want something that will look elegant but won't clash with your ensemble or event theme. To help make your decisions a bit easier and ensure that you have perfect nails on your wedding day, here is a guide of popular colors and what they mean!
Get ready for the big day with these perfectly polished wedding nail colors
Whether you prefer classic shades, playful hues, or something a bit more daring, these wedding nails will make your hands look beautiful as you walk down the aisle. From traditional French manicures to glittery ombré designs and everything in between, here are some of our favorite wedding nail colors for any bridal style.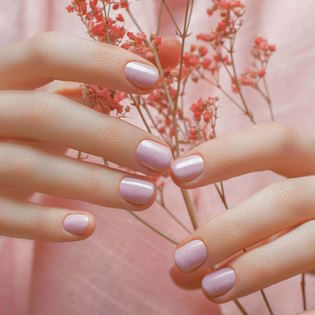 Opt for an understated light pink shade accented with white tips for timeless elegance. This sophisticated style exudes effortless grace and pairs perfectly with any dress color. Or add a hint of sparkle to your classic mani with a glossy rose gold hue that glimmers in the light.
If you're looking for something a bit bolder and unexpected on your wedding day, go for a modern ombré design. Graduating from creamy ivory to a deep blush, the color shift looks beautiful and effortless against any bridal look. Or make your fingertips pop with an edgy gray and black ombre manicure.
Finally, if you're feeling extra daring on your big day, try out a neon orange or bright pink mani. These colors will add an unexpected yet eye-catching statement to your wedding look without overwhelming the rest of your ensemble.
No matter which one you choose, these wedding nail colors will leave a lasting impression on all who see them! So go ahead and get creative with these shades for the perfect mani that'll complete your bridal look.
Perfect wedding nail color ideas to complete your bridal look
As the big day approaches, you want to ensure your look is perfect from head to toe. When it comes to your nails, several stunning wedding nail colors will ensure your bridal aesthetic is complete. Whether you're looking for subtle pinks or bold blues, these nail polish shades and designs will have you looking glamorous on your special day.
Classic French Manicure – If a timeless look is what you're after, then opt for a classic white-tipped French manicure. This style looks elegant and refined when paired with a wedding dress and timeless accessories.
Shimmery White Nails – Nothing says 'bride' quite like shimmery white nail polish. This look is perfect for any season, and it adds a touch of glamour to your wedding day ensemble.
Glitter Nails – For an eye-catching manicure that sparkles in the light, why not go all out with glitter nails? Choose from silver, gold or rose gold hues to match your overall color scheme and add extra glitz to your bridal style.
Pale Pink Nude – If you're after subtlety, then pale pink nude nails are the way to go. Whether you prefer long nails or short ones, this shade will add just the right amount of feminine charm to your wedding outfit.
Rose Gold Ombre – Opt for an ombre effect with a rose gold hue for a trendier look. This style is great for brides who want to add modern touches to their wedding day ensemble without going overboard.
Navy Blue Nails – If daring enough, try adding navy blue nails to your bridal look. This color looks stunning against white dresses and will help you stand out from the crowd on your big day.
No matter which colors or styles you choose, make sure they reflect your overall aesthetic and match your wedding season. With these nail color ideas, you'll be sure to have the perfect manicure for your special day!