A Bride's Guide to Finding the Perfect Empire Waist Wedding Gown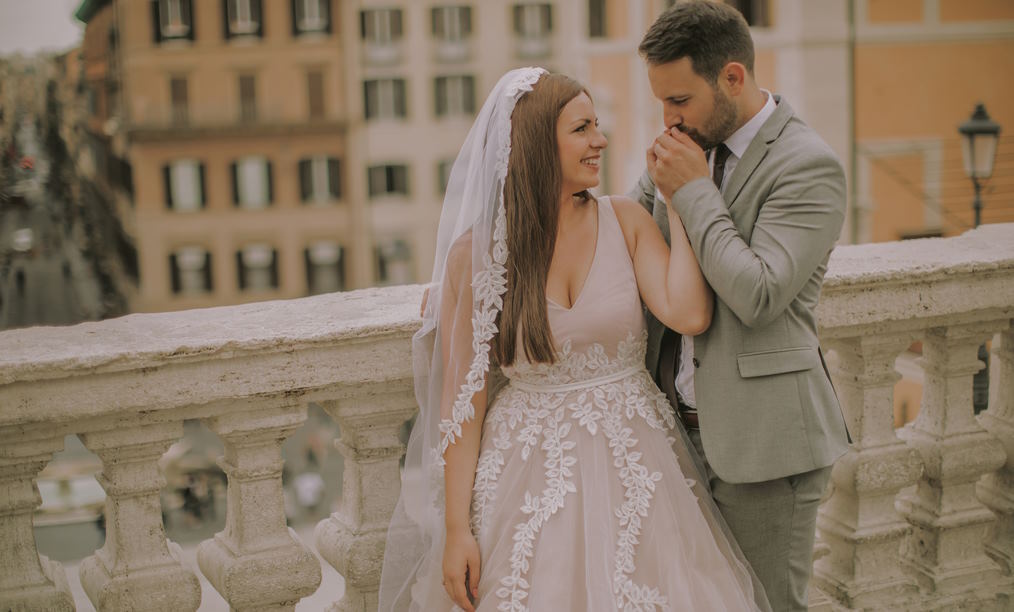 Are you dreaming of walking in an elegant empire waist wedding gown down the aisle? This beautiful cut is always a classic and will ensure that you look like royalty on your special day. Finding that perfect gown may seem overwhelming, but with the right preparation and knowledge, it's easier than one might think. This blog post will explore all facets of selecting the best empire waist wedding dress for your big day. From identifying what body types are most complementary to this style to gauging which silhouettes are trending right now; you'll have all the information you need to make an informed choice while shopping for your dream dress. So read on if you want to feel confident in choosing that perfect custom-tailored glamourous wedding gown!
Reasons why empire waist wedding gowns are the perfect choice for your special day
They provide a flattering silhouette for all body types. For example, the fitted waistline of an empire wedding gown draws attention to the bust while skimming over the hips and tummy area, creating a beautiful hourglass shape.
Empire waist gowns are incredibly versatile. These timeless styles look as beautiful on brides of any age and can be easily accessorized with different necklines, fabrics, and embellishments.
An empire waist dress is both romantic and classic. This style gives off an effortless Old Hollywood vibe that will make you feel like a true princess on your special day.
This design also offers flexibility when it comes to wearing different lingerie underneath. For example, with an empire waist gown, you can easily wear a strapless bra or a bustier design.
Empire wedding dresses are also very comfortable to wear. The loose-fitting bodice allows for plenty of breathability while you walk down the aisle, and it is lightweight enough so that you won't feel weighed down when dancing the night away.
Finally, this type of wedding dress is affordable for brides on a budget. With its timeless look, you can save money on decorations and accessories since your gown will take center stage. Plus, because of its versatile nature, you can easily reuse your empire waist dress for other special occasions in the future.
Overall, an empire waist wedding gown is the perfect choice if you are looking for a classic and timeless look that will flatter your figure. With its versatility, affordability, and romantic aesthetic, you can easily make this design your own on your special day.
Style guide for empire waist wedding gowns
Empire waist wedding gowns offer a timeless and romantic look for the bride who wants to feel graceful and beautiful on her special day. The style is characterized by a raised seam just below the bust, defining the natural waistline before flowing into an A-line silhouette with a lightweight skirt. This versatile style can be dressed up or down depending on your preference, making it perfect for any ceremony.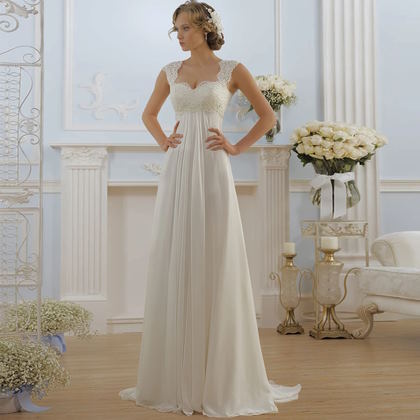 When shopping for an empire waist wedding gown, take measurements and consider which fabric will best suit your body type. Lightweight fabrics like chiffon or silk help create movement in the skirt while providing coverage across the stomach area. Heavier fabrics like satin or taffeta may provide more structure and support. The right fabric can make a big difference in how comfortable and confident you feel on your special day.
When it comes to embellishments, less is usually more with an empire waist wedding gown. Delicate beading, lace appliqués, or sequins can delicately highlight the bodice, while pearls or crystals can add subtle sparkle to the skirt. Additionally, delicate illusion necklines offer both coverage and femininity without removing the dress's silhouette's simplicity.
Finally, choosing the right accessories for your empire waist wedding gown is essential for tying together your overall look. Of course, a veil should complement your dress's neckline and length – but you can always consider a tiara, flower crown, or statement necklace to make your look even more special. Additionally, shoes that add height and provide support are important for any bride. Finally, consider wearing something you'll be able to dance in all night long!
When it comes to finding the perfect empire waist wedding gown for your big day, endless options can suit any bride's style and budget. With the right fabric, embellishments, and accessories – you'll be sure to look beautiful and feel confident as you walk down the aisle!