Creative Wedding Hairstyle Ideas Featuring Bridal Hair Scarves
Nobody wants to forget the 'big day', and when it comes to wedding looks, the hairstyle is one of the most memorable elements. Whether you opt for a classic updo or something more romantic and bohemian, perfecting your bridal look can be challenging – especially if you're looking for something unique. Thankfully, beautiful hair scarves are here to save the day! From vintage headbands to delicate silk ribbons and elegant necktie bands, today's selection of stylish bridal hair scarves promises a plethora of imaginative wedding hairstyle ideas that will help bring out your inner goddess on this special occasion. Keep reading to discover how you can rock a head wrap like an absolute pro at your upcoming nuptials – we guarantee these creative accessories will take your breath away!
The stylish bride's guide to wearing a bridal hair scarf
A bridal hair scarf is perfect for adding a unique, timeless touch to your wedding day look. The best part? It's easy to style and can be worn in various ways. Here are our top tips for wearing a bridal hair scarf with style:
Start by picking out a fabric, such as silk or chiffon, that complements your dress and/or hairstyle. For example, consider choosing something more colorful or patterned if you're wearing a traditional white gown.
Choose a length that works with the way you're styling your hair and dress—if it's too long it can overwhelm the rest of your outfit!
Be creative with how you tie your hair scarf. You can fold it into a bow, wrap it around an updo, or even drape it over your head like a veil.
Use bobby pins to secure the fabric and avoid slipping it off during the ceremony.
Finish the look with accessories such as pearls or other bridal jewelry for a beautiful bridal hairstyle.
A bridal hair scarf is sure to make any bride stand out on her big day! With these tips in mind, you'll be able to create a unique and stylish look that will last long after the wedding bells have rung.
The power of the bridal hair scarf – creative ideas and inspirations
When it comes to styling a bridal hairdo, the right accessory can make all the difference. A bridal hair scarf is one of those unique finishing touches that can turn an ordinary look into something truly special. From bold and beautiful prints to delicate lace designs, they come in various fabrics that offer endless possibilities for complementing your bridal style.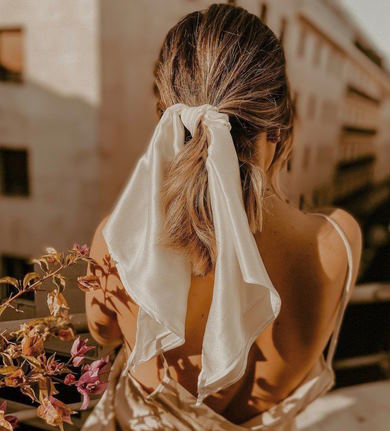 One of the best things about using a bridal hair scarf is that it doesn't need to take center stage; you can use it as an accent piece within your overall look. Try knotting the scarf around a chignon or French twist for added detail and texture. For more dramatic flair, wrap the scarf around both sides of your half-up hairstyle, or tuck one end of the scarf behind your ear for a subtle yet beautiful touch.
Whether you're going for an ultra-feminine vibe or a more modern look, there's no shortage of creative ideas when it comes to styling with a bridal hair scarf. Boho brides can use a lightweight scarf instead of a veil; make sure it's securely attached at the back or sides of your hairstyle so that it won't move around too much. For vintage-inspired glamour, pair your hair scarf with waves cascading down one side and secure it with a set of bobby pins. A small knotted bow will add charm and sophistication to any look.
When shopping for your ideal bridal hair scarf, it's important to consider the material, design, and color that best flatters your skin tone. The beauty of a bridal hair scarf is that it can be unassuming or bold, depending on your preference, so don't forget to have some fun and experiment with different looks! With just a bit of creativity and attention to detail, you can take any hairstyle from ordinary to extraordinary in no time at all.
As you prepare for the big day, remember that having the right accessory is key to creating a timeless look. From classic pieces to more modern designs, there are many ways you can use a bridal hair scarf to make your wedding day style truly unforgettable. So go ahead and get creative—with the right piece, you can add a special touch of beauty to your bridal look.